Stage 1 Lesson 1
Spiritual Infancy
Stage 1 Lesson 2
Spiritual Infancy
Stage 1 Lesson 3
Spiritual Infancy
Stage 1 Lesson 4
Spiritual Infancy
Stage 1 Lesson 5
Spiritual Infancy
Stage 1 Lesson 6
Spiritual Infancy
Stage 1 Lesson 7
Spiritual Infancy
Stage 1 Lesson 8
Spiritual Infancy
Stage 1 Lesson 9
Spiritual Infancy
Stage 1 Lesson 10
Spiritual Infancy
Stage 1 Lesson 1
Spiritual Infancy
Stage 1 Lesson 2
Spiritual Infancy
Stage 1 Lesson 3
Spiritual Infancy
Stage 1 Lesson 4
Spiritual Infancy
Stage 1 Lesson 5
Spiritual Infancy
Stage 1 Lesson 6
Spiritual Infancy
Stage 1 Lesson 7
Spiritual Infancy
Stage 1 Lesson 8
Spiritual Infancy
Stage 1 Lesson 9
Spiritual Infancy
Stage 1 Lesson 10
Spiritual Infancy
How To Mature in Christ
1st Stage Spiritual Infancy – Babes
Lesson 2

: Learning To Grow In Christ
INTRODUCTION
Understanding the Bible
To fully understand the Bible, it is necessary to understand the New Testament to properly understand the Old Testament. For any interpretation of a part of the Bible to be accurate and proper it must be in harmony with the whole Bible.
NKJV: 2 Timothy 3:16, "All Scripture Is Given By Inspiration Of God, And Is Profitable For Doctrine,
For Reproof, For Correction, For Instruction In Righteousness,"
Some Principles of Interpretation
"Scripture has only one meaning to which its content lends itself, there are many secondary
applications."         …….. Dr. Fred Wittman – How To Mature in Christ <pages 10 – 18>
General Rule
Interpret grammatically with due regard to the meaning of the words, the forms of
sentences, and the peculiarities of idioms in the language employed
Interpret historically with regard to context
Interpret comparatively with regard to parallel passages of Scripture
Application
Seven Areas of Growth:
NKJV: 2 Peter 3:18, "but grow in the grace and knowledge of our Lord and Savior Jesus Christ"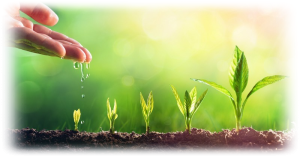 1. Flourishing: <The Means of Spiritual Growth>
If we are to flourish, it will be the direct result of and in direct relation to the Word of God.
NKJV: Psalm 92:12-14, "The righteous shall flourish like a palm tree, He shall grow like a
cedar in Lebanon. 13 Those who are planted in the house of the Lord Shall flourish in the courts of our God. 14 They shall still bear fruit in old age; They shall be fresh and flourishing'" 
NKJV: Ephesians 5:17, "Therefore, do not be unwise, but understand what the will of the
Lord is."                   
2. Filling: < The Conditions for Spiritual Growth>
This refers to the filling of the Holy Spirit in us. Without the filling (control) of the Holy Spirit there can be no spirituality and therefore no true holiness.
NKJV: Ephesians 5:17, "Therefore, do not be unwise, but understand what the will of the
Lord is." 
NKJV: Ephesians 5:18,  "And do not be drunk with wine, in which is dissipation; but be filled
with the Spirit, 19 speaking to one another in psalms and hymns and spiritual
songs, singing and making melody in your heart to the Lord, 20 giving thanks
always for all things to God the Father in the name of our Lord Jesus Christ,"
NKJV: Ephesians 3:19,"to know the love of Christ which passes knowledge; that you may be
filled with all the fullness of God."
NKJV: 1 Peter 1:14 – 16, "as obedient children, not conforming yourselves to the former
lusts, as in your ignorance; 15 but as He who called you is holy, you also be holy in
all your conduct, 16 because it is written, "Be holy, for I am holy."
NKJV: Hebrews 12:14,"Pursue peace with all people, and holiness, without which no one will
see the Lord:"
3. Fellowship: <The Relationships in Spiritual Growth>
Prayer and Fellowship with the Father is vital to the growth in the life of the child of God as
illustrated in the following passages
NKJV: 1 Corinthians1:9, "God is faithful, by whom you were called into the fellowship of His
Son, Jesus Christ our Lord."
NKJV: 1 John 1:3-7, " that which we have seen and heard we declare to you, that you also
may have fellowship with us; and truly our fellowship is with the Father and with
His Son Jesus Christ. 4 And these things we write to you that your joy may be full."
reason of [b]use have their senses exercised to discern both good and evil."
NKJV: Philippians 2:1, "Therefore if there is any consolation in Christ, if any comfort of love, if
any fellowship of the Spirit, if any affection and mercy,"
NKJV: Philippians 3:3, "For we are the circumcision, who worship God in the Spirit, rejoice in
Christ Jesus, and have no confidence in the flesh,"
4. Fighting: <The Conflicts in Spiritual Growth>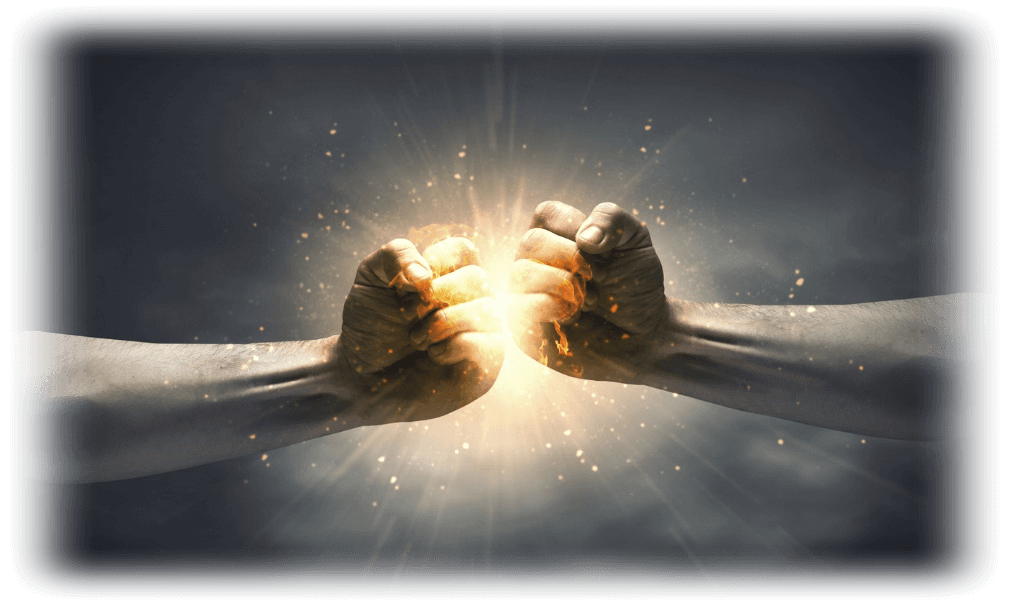 NKJV:
1 Timothy 1:18

,
"This charge I commit to you, son Timothy, according to the
prophecies previously made concerning you, that by them you may wage the
good warfare,"
NKJV: Ephesians 6:10 – 18, "Finally, my brethren, be strong in the Lord and in the power of
His might. 11 Put on the whole armor of God, that you may be able to stand against
the wiles of the devil. 12 For we do not wrestle against flesh and blood, but
against principalities, against powers, against the rulers of the darkness of this
age, against spiritual hosts of wickedness in the heavenly places. 13 Therefore take
up the whole armor of God, that you may be able to withstand in the evil day, and
having done all, to stand.
14 Stand therefore, having girded your waist with truth, having put on the breastplate
of righteousness, 15 and having shod your feet with the preparation of the gospel of
peace; 16 above all, taking the shield of faith with which you will be able to quench
all the fiery darts of the wicked one. 17 And take the helmet of salvation, and the
sword of the Spirit, which is the word of God; 18 praying always with all prayer and
supplication in the Spirit, being watchful to this end with all perseverance and
supplication for all the saints"
5. Financing: < The Management of Trust in Spiritual Growth>
We are servants of the Lord and He has given us all that we have and put His trust in us to
use it wisely and for His purposes.
NKJV: 2 Corinthians 9:6-13, "But this I say: He who sows sparingly will also reap sparingly,
and he who sows bountifully will also reap bountifully. 7 So let each one give as he
purposes in his heart, not grudgingly or of necessity; for God loves a cheerful
giver. 8 And God is able to make all grace abound toward you, that you, always
having all sufficiency in all things, may have an abundance for every good work. 9 As
it is written:
"He has dispersed abroad,
 He has given to the poor;
His righteousness endures forever."
10 Now may He who supplies seed to the sower, and bread for food, supply and
multiply the seed you have sown and increase the fruits of your righteousness
righteousness, 11 while you are enriched in everything for all liberality, which causes
thanksgiving through us to God. 12 For the administration of this service not only
supplies the needs of the saints, but also is abounding through many thanksgivings to
God, 13 while, through the proof of this ministry, they glorify God for the obedience of
your confession to the gospel of Christ, and for your liberal sharing with them and
all men,"
NKJV: 1 Corinthians 16:1-2, "Now concerning the collection for the saints, as I have given
orders to the churches of Galatia, so you must do also: 2 On the first day of the week
let each one of you lay something aside, storing up as he may prosper, that there be
no collections when I come."
6. Following: <The Pursuits in Spiritual Growth>
Throughout His ministry, the Lord Christ called on people to follow Him. He challenges us to continue to follow Him and never turn back.
NKJV: Luke 9:23, "Then He said to them all, "If
anyone desires to come after Me, let him
deny himself, and take up his cross daily,
and follow Me."
NKJV: John 21:22, "Jesus said to him, "If I [a]will that he remaintill I come, what is that to
you? You follow Me."
7. Faithfulness: <The Manner of Spiritual Growth>
Faithfulness is a trait that must be developed and our Lord Jesus Christ promised us great rewards for those who remain faithful to Him.
NKJV: Revelation 2:10, "Do not fear any of those things which you are about to suffer.
Indeed, the devil is about to throw some of you into prison, that you may be tested,
and you will have tribulation ten days. Be faithful until death, and I will give you the
crown of life."
NKJV: Nehemiah 4:6, "So we built the wall, and the entire wall was joined together up to half
its height, for the people had a mind to work."
NKJV: 1Corinthians 15:58, "Therefore, my beloved brethren, be steadfast, immovable, always
abounding in the work of the Lord, knowing that your labor is not in vain in the Lord."
Conclusion:
By this overview, it can be seen that all seven areas emphasized are found in seed thought in the Gospels where they are taught by our Lord Jesus Christ and experienced by the early church in the book of Acts.
The teaching and exhortation found in the Epistles will be included in future Lessons. It is necessary that you give diligent attention to develop these areas of growth and allow the Holy Spirit to do His work in perfecting each of these areas in your life. In the following lessons each area of growth will be presented and expounded in greater detail on a level for babes in Christ to understand and to put into practice so that proper growth may take place into spiritual childhood.